Cleanroom Cleaning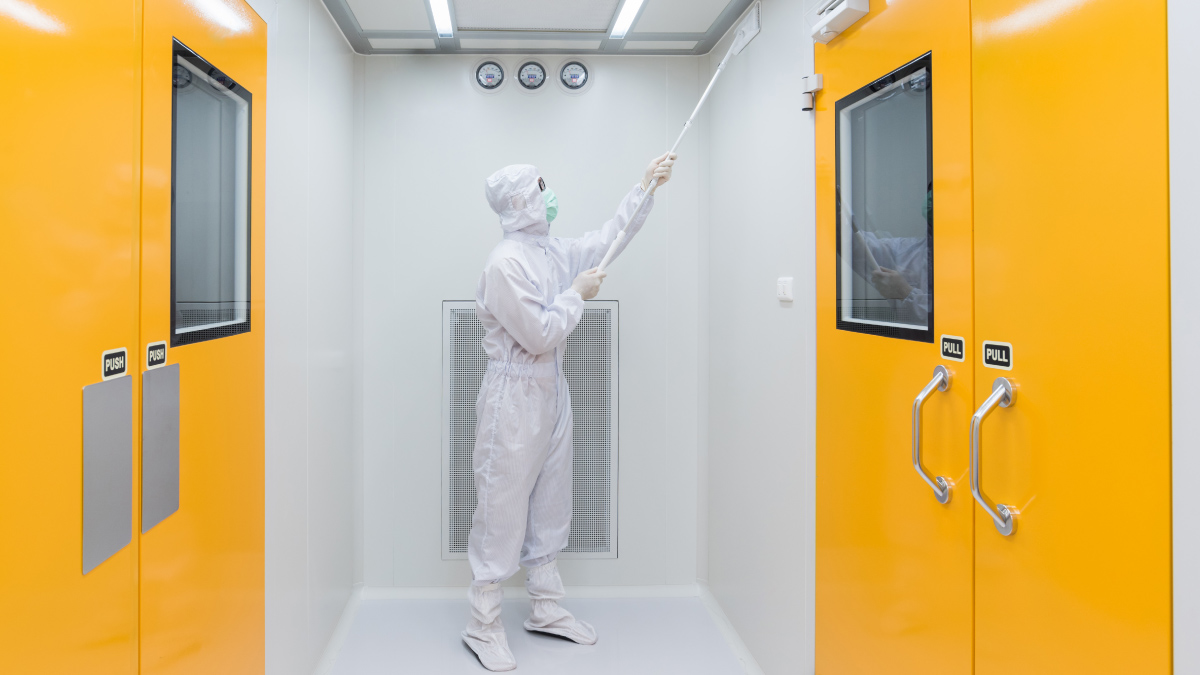 Blog
Cleanroom
23.05.2023
The Micronclean Cleaning Team are a dedicated unit specially trained for environment decontamination. They have been serving a variety of clean industries including Pharmaceutical, Medical Device and Semiconductor since 2001.
The Micronclean cleanroom cleaning service offers a tailored service to every customer; with each cleanroom environment undergoing a free of charge, full survey prior to any clean. This attention to detail ensures that each and every clean undertaken meets the stringent standards that Micronclean and their customers demand, and that the service achieves the desired objectives it has been commissioned to meet.
Cleaning Process Review
In addition to an initial free site survey Micronclean can perform a full cleaning audit, working with you to establish any weaknesses within your cleaning and maintenance process whilst helping to implement a programme of change to improve practices.
From materials and solutions used, regularity of cleaning, training of internal staff or supply of external staff, Micronclean provide analysis, recommendations and solutions to meet to any requirement.
Micronclean work with you to build a cleaning plan that meets GMP and other regulatory requirements, whilst maximising procedural compliance by cleaning staff, and minimising impact upon production operations.
Documentation
On completion of a site clean a Clean Record will be issued. The Clean Record contains a copy of the site Clean Plan, the results of pre- and post-clean environmental monitoring carried out, the batch information for all cleaning materials used and details of any deviations from the approved cleaning procedures, with a corrective action plan as appropriate.
Quality Assurance Cleaning SOPs
For each clean carried out a Clean Plan will be drawn up for approval. This document includes site plans and defines the cleaning procedures and materials to be used. Creating site-specific plans in this way provides a defined work schedule and outlines clear expectations and outcomes. Micronclean operators work to Standard Operating Procedures (SOPs) and full training records are available for all staff.
Testing
Microbiological Testing Service (Pre/Post Clean)
Micronclean offer a range of microbiological testing in order to verify cleaning. Micronclean transport all samples to an independent microbiological laboratory for analysis. The laboratory is audited on a regular basis by UKAS & customers from cleanroom industries including pharmaceutical and biotechnology, ensuring test systems remain in line with current best practice.
Air Particulate Testing
This service can be offered pre and post clean to analyse the impact of the cleaning service. This test uses disturbance methodology to analyse particle settlement as well as airborne particulate, and measures the count before and after, demonstrating the reduction and documenting the current room performance. Air particulate testing will also help to highlight whether your environment is meeting specification and if your filtration is performing.
To submit an enquiry or request more information, contact cleanroomcleaning@micronclean.co.uk or call 01754 767 377.